Parent Teacher Drop In
Every Tuesday at 3.30pm - 4pm, parents are welcome to drop in to see their class teacher for an informal chat about anything including subjects and topic being taught in class. There's no need to book. You can also find out more information on your child's half term topic and how it relates to the curriculum under their Class page which you can access here
Our Curriculum
At St James Primary, our children follow a broad curriculum based on the revised National Curriculum (2014), and other learning experiences, which aim to develop their knowledge, skills and understanding of the world and which is a foundation for lifelong learning. We believe all children are entitled to access this curriculum and to learn and develop at an appropriate pace. We seek to educate the whole child in our Christian environment. We encourage our children's physical, oral and social development and want them to be successful learners, confident individuals and responsible citizens both now and in the future.
We expect very high standards of teaching and learning and we can demonstrate a consistent record of achievement, backed by Ofsted and performance data.
Our Governors have a key role in monitoring teaching, learning and our children's rates of progress and attainment. The Curriculum Committee meets twice termly and undertakes regular learning walks of the school. The committee follows a monitoring programme of the educational provision with an emphasis on maintaining and improving standards for all children.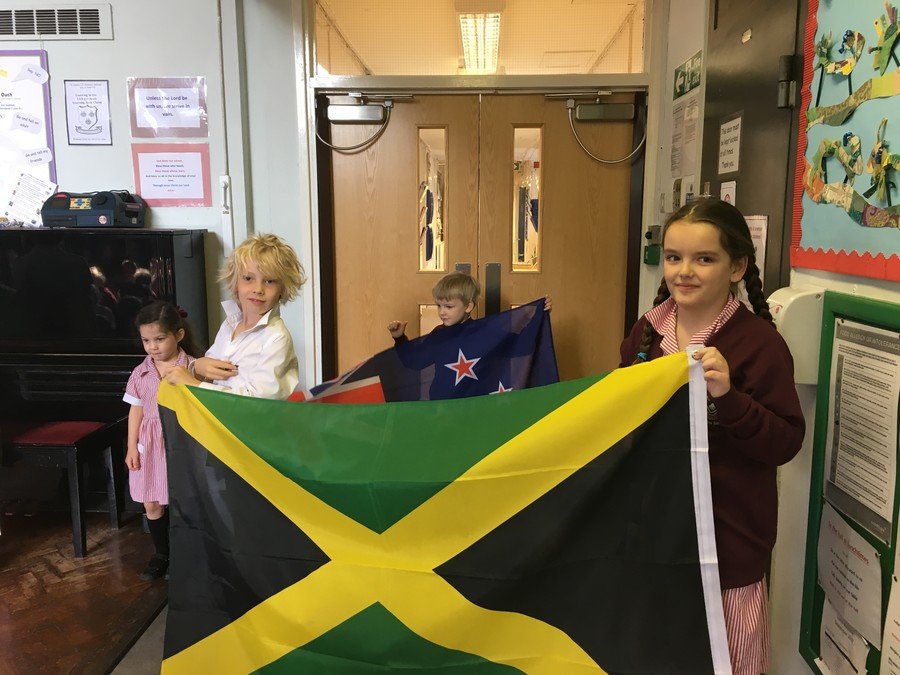 The National Curriculum seeks to provide continuity as children progress through a series of stages:
Early Years Foundation Stage (EYFS) - Reception (4-5 year olds);
Key Stage 1 - Years 1 and 2 (5-7 year olds); and
Key Stage 2 - Years 3-6 (7-11 year olds).
Teachers assess, track and monitor children's progress against the national curriculum year objectives, which is in turn shared with the children and their parents.
At the end of each year, parents receive a copy of our tracking system as well.
Early Years Foundation Stage (EYFS)
Our Reception class follows the framework laid down in the EYFS statutory framework which aims to support children's development in seven areas of learning and development.
The three prime areas are:
communication and language
physical development
personal, social and emotional development
There are also four specific areas through which the prime areas are strengthened and applied:
Literacy
Mathematics
Understanding the world
Expressive arts and design
The EYFS is underpinned by four overarching principles which acknowledge that each child is a unique and constant learner and needs to grow and develop through forming positive relationships in an enabling environment. In addition, children develop and learn at different rates and thus the framework supports the learning of all children including those with special needs and disabilities.
Key Stage 1 and Key Stage 2
As the children move further up the school, the subject areas of the National Curriculum become more distinct. Religious education and worship in assemblies are an integral part of the children's experience. There are five core subjects:
Literacy
Numeracy
Science
Computing(ICT)
PE
We also teach a rich curriculum incorporating History, Geography, Art and Design, Languages, Music and Personal, Health & Social Education (PHSE). Teachers plan topics of work for each year group from the national curriculum. We supplement our provision each term with events to broader experiences of the children including Do Something Different Day, philosophy for children, Science week, and Hoola hoop day to name but a few.
English
We have a systematic and dynamic whole school approach to developing reading and writing skills. The cornerstone of our literacy strategy is phonics taught through the programme developed by Read Write Inc. This intensive, progressive programme is recognised as having a huge impact on standards and achievement.
Across Foundation stage and Key stage 1, the children learn phonics, reading, writing, grammar and spelling simultaneously in small, ability led, cross-year groups, taken by teachers and teaching assistants who have received special training. Children learn at their own pace and are regularly assessed to enable them to move forward appropriately.
The introduction of RML (Ruth Miskin Learning) has had a demonstrable effect on standards of reading and writing throughout the school and is strongly backed by staff, governors and parents. In addition to core literacy work with a daily focus on writing, handwriting and spelling, we encourage high standards of written work across all subject areas.
Numeracy
We want our children to be fluent in the fundamentals of mathematics and problem solving and to develop reasoning skills essential for everyday life. We begin at the Foundation and Key Stage 1 with the foundations of mental arithmetic, developing the concept of number and place value, shape and dimension, time and money. We use visual and physical aids such as numicon practical apparatus, and our interactive whiteboards to develop concepts and encourage investigation. We want children to be able to select and use mathematical methods to solve problems and to be able to apply those methods to different contexts. Gradually through Key Stage 2 the children are introduced to more formal written methods. We use small group teaching to stretch the most able children and to support weaker students. Our children consistently achieve well in maths and we encourage them to demonstrate their learning, for example by taking part in the National Primary Maths Challenge.
In September 2017, we saw the introduction of a new scheme of work INSPIRE Maths across the school.
Science
Our children are natural scientists and are keen to explore, inquire and understand the world around them. Within the National Curriculum framework we investigate life processes, materials, physical processes and concentrate on developing children's scientific skills, encouraging them to question, investigate and test appropriately. We focus on group work and collaboration, with lots of practical work and experimentation. We want our children to enjoy science, and we support their learning in a variety of ways including 'Inspire' days, school trips and fieldwork. For more information on what we get up to in our Science weeks, please click here
Computing
In recent years we have seen significant investment in technology in our school and this will continue to be a priority. ICT is used as a tool to learning alongside developing their ICT skills.
Our children are familiar with technology resources and we use ICT across the curriculum to support children's learning. We have excellent facilities, integrated into all the classrooms, with interactive whiteboards and computers, laptops and iPads and an exclusive learning zone with a range of technology.
We also teach ICT to enable our children to develop skills in using the Internet, utilising different software and programming and to increase their awareness of Internet safety. Children in KS2 are encouraged to use ICT in their classwork and projects. ICT is also used as a resource to support the learning of children with Special Needs.
PE
We want our children to develop physically and to be healthy and active. We have plenty of outside space and equipment, including a dedicated football area and teach our children a variety of indoor and outdoor sports. We also encourage social skills and collaboration through team games and shared activities. We have extra-curricular netball, gymnastics and football and our older children have the opportunity to undertake cycle and scooter training, squash, swimming, multi sports, fencing and basketball. For more information, please follow this link to our PE, Sports & Competitions page
Art and Music
We are passionate about exploring our children's creative sides and we encouraging them to do the same through art, music and drama. For more information on all the music we do in school, please follow this link for Music and this one for Art
Religious Education and Worship
Our school has a strong Christian ethos and close links to St James Church in Muswell Hill. We actively support those children who are Christians to grow in faith and develop their knowledge of the Bible and Christian teaching. We follow the Discovery RE scheme of work and some aspects of the LDBS scheme of work, exploring the stories and themes of the Old and New Testaments and core Christian values such as justice and forgiveness. As part of the National Curriculum we also teach children about world faiths and perspectives.
Worship is part of our school life. We have daily assemblies and children are encouraged to participate. Once a week, staff from St, James Church come into school to teach the children in assembly. The whole school also attends church once or twice a term for special services such as Harvest Festival and Easter. At Christmas the KS1 children perform a nativity play.
Our themes for morning assemblies are on a two year rolling programme and you can find out more about them here
You can find out more in Spiritual, Moral, Social and Cultural policy here You can find out more about our Worship policy here
Extra-curricular Activities
We support a wide a range of activities outside of the daily curriculum as space and time permits. Music teachers from Haringey provide private instrumental lessons and we have a fantastic choir. Pupils are also offered opportunities to participate in drama, French, Mandarin, ukulele, gymnastics, football, netball, art, fencing and chess club.
School Trips
Our children take part in a wide variety of school trips, usually once or twice termly to support their learning. Recent trips have included the British Museum, Kew Gardens, Science Museum, Hackney Empire, Natural History Museum, the Arts Depot and the Butterfly House in Golders Hill Park.
We also have outside agencies come into the school to run workshops for children in drama, art, music and science and we undertake local fieldwork in Highgate Woods and Muswell Hill.
Older children have the opportunity to undertake a school journey for a few nights away from home at specialist activity centres.
Finally, here is a fast link to our School Improvement Plan which gives an overviews of our aims and goals for this academic year.