We have been awarded the Silver School Games Mark for our commitment to competitive sport in school.
PE, Sports & Competitions
Sportshall Athletics
A team of dedicated year 6s represented St James in the Haringey Sportshall Athletics competition in January. They performed well in a range of track and field events including: triple jump, speed bounce and relay races. They worked really well as a team to support each other. We are really proud that we came 7th out of 10 schools participating in this event.
A Life Healthy Workshops
On Wednesday 29th March, A Life came into school to run healthy workshops with the whole school. KS1 took part in fun fitness sessions and KS2 took part in circuit training with mini trampolines, balancing apparatus, hula hoops and boxing. We did sit ups, star jumps, planking and stretching exercises. It was a great day and we learnt loads.
.
Key Steps Level 2 Competition
On Thursday 16th March, six pupils from year 4 went to compete in a gymnastics competition at Hornsey School for Girls along with 12 other teams from across Haringey.
They competed in three different disciplines: Floor Routine, Body Management and Vault. Each of the team performed brilliantly, remembering the long routines and working hard to perfect each skill.
The team came third overall, and were presented with bronze medals and certificates. Congratulations!
Squash and Tennis Coaching
Our year 5 class had an exciting opportunity when they got to visit Stormont Club in January for a special coaching session! They had a great time trying out both sports and showed great enthusiasm for trying new activities.
Football at Highgate Primary
We played our first matches of the year at Highgate Primary on Tuesday 21st March, including St James' first ever girls football team.
Both teams played really well, but unfortunately were beaten by strong opponents. There were many positives to take away from the experience - our teams are working well together and communication in matches is improving. We will continue training hard every Thursday evening so that we come back even better for our next matches!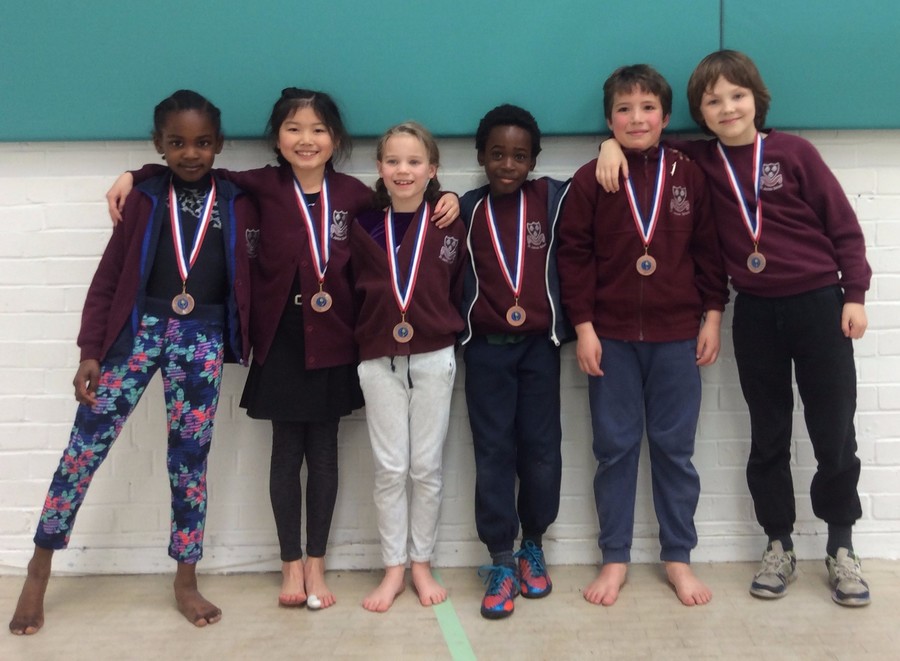 .
Haringey 3x3 Basketball Competition
After training hard since Christmas, some of our year 6s travelled to Greig Academy on Friday 24th Feb to compete in a 3x3 basketball competition. In total, there were 36 teams from different schools in the borough!
In the morning, the team played excellently, and won the pool! This meant that in the afternoon they played against the other top-ranked teams in the competition, playing some really tough opponents.
Overall, St James came 6th out of 36 teams which is a fantastic achievement. The whole team demonstrated a great attitude and teamwork all day. They should be very proud!